Happy November everyone! I wanted to take a moment and introduce you to JB 57!
Greg:
Hello, my name is Greg. I am 54 years old. I was born in San Antonio, TX but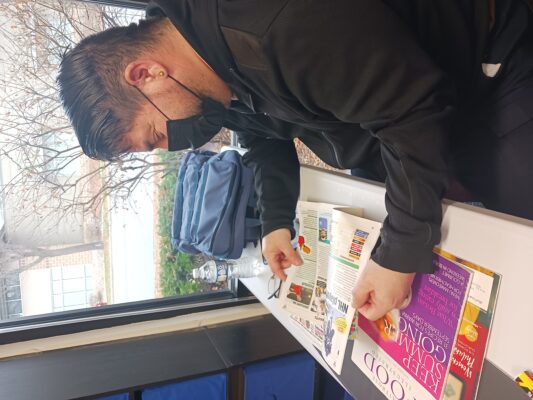 have lived in Madison since 1969. Probably my greatest influence was my brother. I looked up to him as I was growing up.
I decided on Just Bakery to try something new, and it seemed like the best fit for me at this time. I identify as being a loner, quiet but still being very adaptable in every situation. My struggles have been plenty- I am dealing with unemployment, mental health, and physical problems. Music is probably the only thing at this time that brings me joy. My future, I hope, is just a place to live and a job I am happy with.
Who do I want to be…just a pain-free and happy person. Which has been a long time.
Ronnie: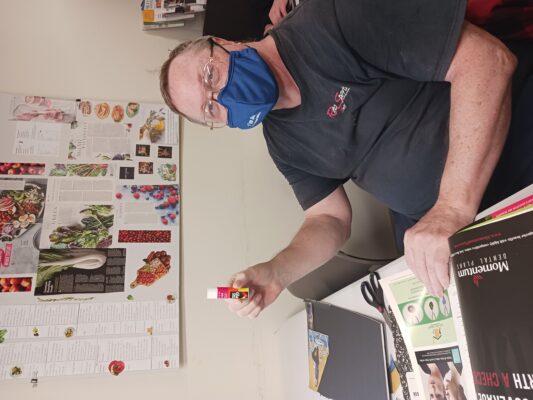 My name is Ronnie, I am 61. I've been cooking since I was 14 years old. I learned from watching my stepmother and my grandmother when they cooked. I'm hoping to own and operate my own restaurant in the near future. People ask me what I specialize in and I tell them comfort food or one-pot meals. Food service is about being of service to the customer. Serving a meal should be a good and pleasant experience for the customer. I want to try and make that happen for them.
Garrett:
I'm from Minnesota and I arrived here on parole with an interstate compact transfer in 2013. I struggled and learned how to be more and less criminal,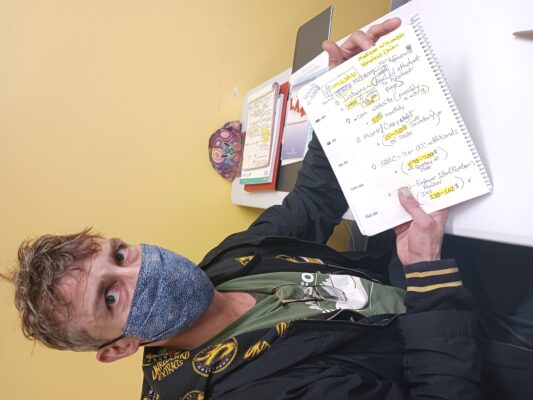 sovereign, and dealt with my trauma, addiction, and low points/high points into homelessness and out again. During that, my greatest influences were negative and positive. What I got out of it all was loyalty, lived experience, and the revolutionary DRIVE to do better for others, and then myself, in a new way. Other community organizers/homeless proved to be family where blood is not. Family is in who we or others choose. Cofounding a homeless union and being an activist/participant in our communities is more natural now. I want to be more accepting to others and to myself. I am a unified soul with unconditional love.
James:
I was born in San Diego, California out of wedlock in May of 1956. I am full-blooded Portuguese. I am 63 years old. The Bible is my greatest influence, as I use it to guide my walk in life. What motivates me to come to Just Bakery is: 1) I can't find a job in my field (Master Carpenter/Cabinet Maker-Building Services and Maintenance), usually because of transportation issues; 2) because I've worked in Foodservice on and off for over 42 years and I intend to use the work at Just Bakery as a steppingstone to a better occupational opportunity; and 3) I need a steady income to pay bills.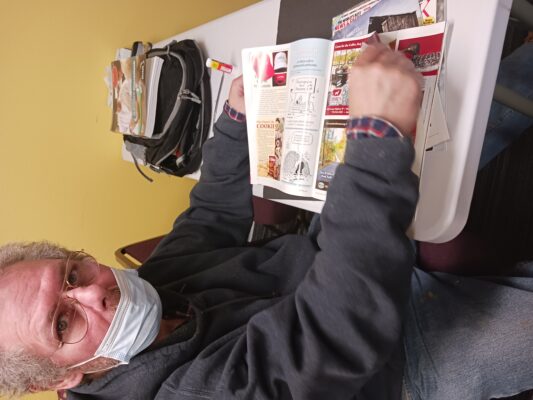 I'm a laid-back, down-to-earth, easy-going Christian Latino who is working to get his life together again from scratch. When I finally get my finances stabilized, I intend to get married and I miss the emotional and physical intimacy that a husband and wife share with one another. That is what brings me joy in life. I see success in my future as a man, as a husband, as a business-man, or at anything I choose to do in life.
My 5-year plan is to become a long-haul trucker traveling the country on someone else's dime and get paid for it. I can potentially make over $100,000 a year doing this.
Welcome, JB 57! Two weeks in and holding strong!
So, how is William from JB 56 doing you ask? Great! He's learning a lot in the kitchen and is looking for a job in a bakery! When asked what his favorite thing he's made so far was, he couldn't decide, but he can tell you his least favorite: flourless peanut butter cookies. This week they were working on laminated doughs. Check out all those layers!!
With the holidays coming up, chances are high that you will have some friends or family staying with you. Nothing says hospitality more than fresh baked cinnamon rolls in the morning. They are a lot of work, but we have you covered! Order the Take and Bake Cinnamon Rolls from Just Bakery-all you have to do is thaw them, let them come to room temp, and pop them in the oven! Bam! Fresh pastries ❤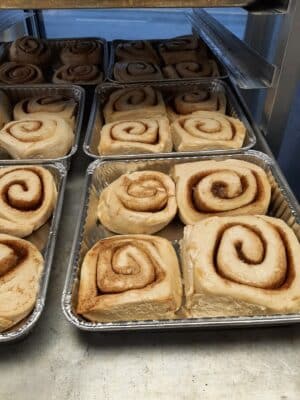 Just Bakery will be closed 11/24 and 11/25 for the holiday (and to take a break after all these pies!!) Thank you for your ongoing support-we couldn't do what we do without you!!