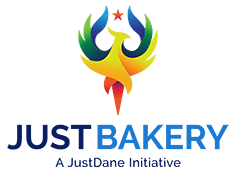 Just Bakery is a 12 week educational and vocational training program. The program works with individuals who are experiencing significant barriers to employment (homelessness, justice involved, lack of education, and/or a lack of work history or skills).
Just Bakery utilizes the National Restaurant Association's "ManageFirst" curriculum, teaching hospitality and restaurant management, supervision, cost control, nutrition, and ServSafe to our students, as well as intro to baking hands-on in our commercial kitchen. This curriculum allows students to earn up to 12 college credits and gain automatic acceptance into the Madison College Culinary Program.  Students also receive sales and marketing experience by working side by side with program staff in a variety of sales venues, learning customer service skills and front of the house skills.
All proceeds from Just Bakery sales are reinvested into the program and have allowed us to hire our graduates to work in the program both on the instructional and production side of the program.