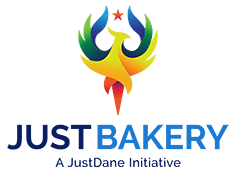 First and foremost: Happy Mother's Day to all the moms out there! We hope you have a lovely weekend-and if you were the happy recipient of one of the cheesecake samplers, let us know what you think!! Remember-ordering opens back up Sunday here!
This week we welcomed JB 48 to the program. Because the group is small this round, our hybrid group is able to be all in person. It is awesome to be back in the classroom and able to work with the participants in that way. It's been so long!!!
As you probably know by now, our first week involves a lot of fun activities to start getting to know each other, while the new students adjust to the work load and jump into the books. We are already on chapter 4 of Nutrition, and chapter 3 in ServSafe. We are off and running!
While JB 48 has been hitting the books, David from JB 47 is laboring away in the kitchen with Justin and Troy! This week he made sugar cookies, helped with the cheesecakes and packaging, as well as plenty of cleaning.
Check back next week to meet the new students!