We've been working on learning about dietary restrictions in the kitchen this week. We started first making vegan cinnamon muffins. The students learned how to make their own oat milk! They learned about replacing animal products in recipes to make delicious vegan baked goods.
They helped Clare work on a trial recipe of gluten free biscotti and then made our flourless chocolate cupcakes with homemade caramel in the middle and whipped ganache on top, its so decadent but SO good. They were especially excited to learn how to make caramel and their first batch came out perfect.
Next up is learning about diabetic friendly recipes, they will make a sugar free chocolate mousse bar that tastes amazing frozen. While replacing ingredients can be challenging they have all been up for learning ways to make baked goods everyone can enjoy. As Julia Childs said, "A party without cake is just a meeting".
I have enjoyed seeing how Al, Tabitha and Lakoye enjoy baking together and can even be silly and make each other laugh.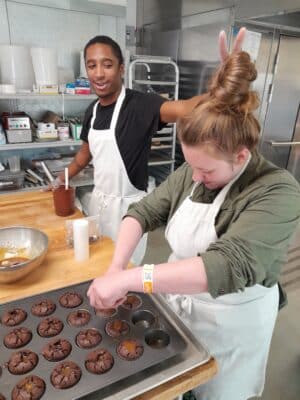 In classroom news, JB 61 has started! We have some wonderful new students joining us and we are excited to get to work with them! Let's meet a few!
"My name is Sonja. I'm 36 years old. I grew up in Waterloo, WI and lived in Southern California for 13 years. I moved back due to experiencing some extreme trauma. When I moved back, I attempted to continue on with a "normal life" and ignore the symptoms of PTSD. Eventually, however, it proved too much for me to handle on my own and resulted in making poor decisions at the end of last year that wound me up in jail. After being release, I spent time in a trauma recovery program and soon after found the Just Bakery program. At a loss for what else to do or where to go to move forward in a positive direction, I decided to enroll. I have always loved to cook and bake and thought this would be a good opportunity to explore these hobbies as a potential future career opportunity. My struggles include still having symptoms of PTSD and some additional mental and emotional hurdles in dealing with what happened and how to move forward. I also struggle with residual guilt from my actions and regret for the choices I made. I hope to be able to reclaim some of my life and my ability to find joy after enduring such a tumultuous and chaotic year-plus I want to prove to myself and others that despite everything, I am able to overcome trials of the past and still live a life I am proud of. I want to be able to feel joy again. I hope to start a family of my own and provide proper support and guidance to my children to live a happy and healthy life."
Thad: "I'm from Flint, Michigan. I have a very strong support network of family and friends. I excelled in athletics and was an All American football player who went on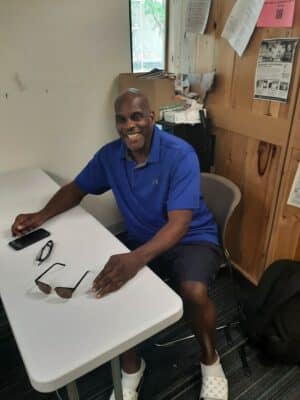 to play for the University of Wisconsin on a scholarship, and went on to play with the NFL. I have struggled with substance use disorder and it is a main priority in life to stay sober. I see a future of me helping others who are fighting with the disease of addiction, I get along well with people and enjoy their company. I love Christ is am always striving to have a more intimate relationship with him. I'm very eager to find my purpose in life through my experiences, the good and the bad. I hope to go beyond what this class provides for me and hope to use it as a platform for my purpose in life."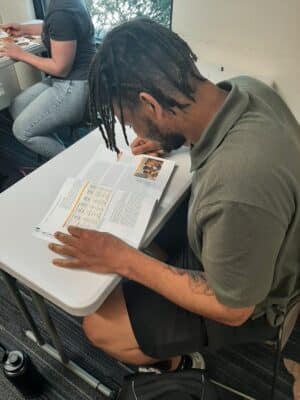 "My name is Marcus. I was born in Las Vegas and at 2 months old I was adopted by my parents. I am now 22 years old. I have two loving parents that want to see me succeed in life. I also have a wonderful girlfriend whom I love very much, and who is very supportive of me. I came to Just Bakery for a fresh start and I hope to do well in the course. I struggle with money management. I hope to learn how to budget my money better through this program."
"My name is Clara. I am 22 years old and I have always loved to cook since I was young. I first heard about the Just Bakery program from my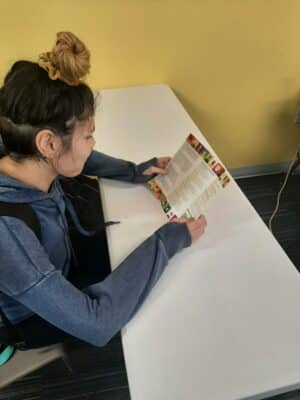 father. My dad has been my main source of support for me in recent years as I have struggled significantly with addiction, trauma, and mental health problems. Due to my struggles, it has made it very hard to stay in school and keep a job. I reached a point where I thought I would never be able to support myself or keep a good job. When I heard about Just Bakery, it gave me a lot of hope that I can create a happy, healthy, and successful life. My dream is to one day own my own restaurant or cafe."
Want to shop JB treats in person? Find us at the Hilldale Market behind Macy's!