Week 3 has come and gone AND so has Week 4?!? and Keva and Cole and still chugging along! This week we wrapped up our Nutrition books and started on Controlling Foodservice Costs. They've taken on their first test-just four more to go!
So, Who are keva and cole?
Every group we ask our students to write a little introduction to our readers. Here is what they had to say!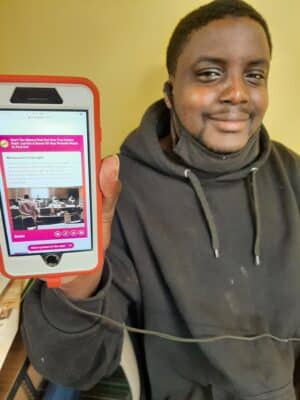 "My name is Cole and I am 26. I'm joining Just Bakery because I want to continue in school at Madison College. I've got a lot of goals, but most of them have to be accomplished by getting a trade in college. I want to succeed in life and have a family someday and be able to provide for them.  I'm trying to better myself in life because I've had a lot of hurdles and barriers and I'm not going to stop and give up. I remind myself it could be a lot worse. I have a lot of people in my corner supporting me, wanting the best for me, so I always keep that in mind. I'm motivated by Just Bakery because they seem very serious and have the good resources to help people from all walks of life. I can't wait to complete this and add it to my resume!"
"Hello, my name is Keva. I was born in Chicago, IL. I moved to Madison when I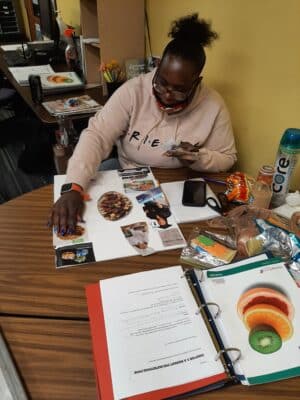 was 12 years old.  Now I'm 30 years old and have three wonderful kids: two boys and one girl. My kids are the most important things to me. What motivated me to come to JB is that I've had a passion for cooking since the day my Auntie Ruby asked me to help her cook a Thanksgiving meal-since then I've felt like I'm in love! I am a great mother, a great friend, auntie, cousin. I'm caring, even to those that don't care for me. I struggle with the fact that I can't do others how they do me. My joys are reading, writing, and enjoying life with my family. In the future, I see myself owning my own kitchen, having a house that I can say I own. I want to be a better me, a better cook, and I can always be a better mother."
and what's new in the kitchen?
Glad you asked! It's Rhubarb season, so we talked to our friends down at Badger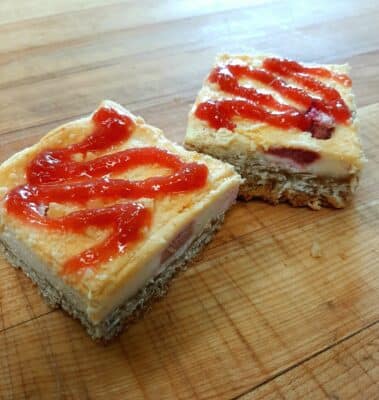 Rock Neighborhood Center and through their Rooted program were able to purchase some fresh rhubarb! This week we tried it out in our Cheesecake Bars and it turned out fantastically! It is the perfect blend of tart, sweet, and creamy. These will be available for purchase in our Storefront for Success this Saturday from 9:00-2:00 (but come early-who knows how long they will last!).
We also brought back our breads! If you are anything like me I know you have been missing our amazing Multigrain! We are also working on a rustic sourdough, so keep your eyes peeled for that!
How does one join the Just Bakery Program?
Mark your calendars! The next Information Session will be June 22 for our class starting July 5! Email me for more information: jaclyn@justdane.org.