This was our FIRST week in the Kitchen!
Justin our Kitchen Instructor said that once the students get out of the classroom and into the Kitchen, that is when you find out who really wants this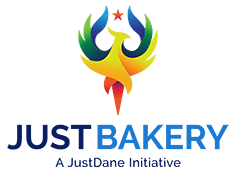 or not.  And that is also when the different personalities clash because in the kitchen you HAVE to work together to get it done, and that's how it will also be in a professional work environment.  But Justin was very happy to say that this was one of the BEST classes he has had here at Just Bakery.  Gloria, Cliff, and Florenzo worked beautifully together as a team.
Florenzo said that the information he learned in the classroom like the Baker's Math was something that he was able to utilize immediately on Day One of being in Kitchen.  He was able to see that everything we teach them has a purpose.
Jamison from our Last Class JB 51 was able to present her final project which Justin said had a layer of cream cheese in the middle that he was pleasantly surprised to see that it didn't get smooshed.
We do have a couple people missing from Just Bakery this week, and we wish them all a speedy recovery!  Get well soon Athena and Zack, we can't wait to see you!
Want to support Just Bakery? Buy our products!! When you purchase products, not only does it give our students something to bake in the kitchen, but every dollar stays in the program and allows us to continue to provide this free training to participants looking to overcome their employment barriers. Make sure to check out our Valentine's Day specials! Order here!