Hello Bakery Friends!
Today marks the end of week two of JB 52.  We can't believe it has only been two weeks! This class is doing the full curriculum, which means they learn 5 subjects instead of 3. So two weeks is really feeling like a month!  But we're so proud of our students. They are keeping up with the ServSafe and Nutrition homework. It can't be easy to go home and do homework for a couple hours after being in class all day, but they are determined!
On Tuesday it was actually Instructor V's birthday. "When I walked into the classroom I was so surprised to see all the food and the presents!  I couldn't believe they put in all this effort for me.  It made me feel so blessed to have this sense of community in my life.  And I wanted to say thank you again to Zack for the cupcakes, and a BIG thank you to Gloria and Athena for making Chili and Pistachio bread, which was SO good.  And for taking the time to do this for me while still getting their homework done. I'd like to give a shout-out to our other students: Florenzo for bringing a lot to say along with his big personality, and Cliff being present in class and keeping up with all the homework.  Also Maleria for keeping up with the class even though it can be hard being the only one on virtually. I have a lot of respect for our students!"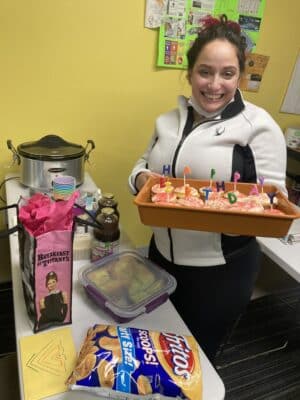 Today we got lucky and the students got to experience our Coordinator Jaclyn teaching how to divide fractions.  All the students said that this was the first time they ever thought of math as being FUN!  Which is amazing, because math can be a difficult subject for a lot of us.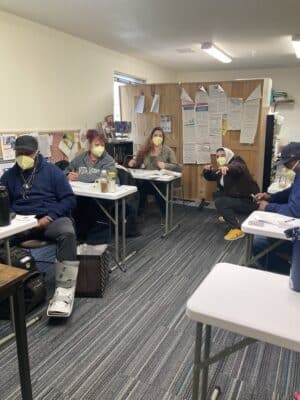 Checking in with JB 51-they've had a very productive week (production joke)! They got to make our new winter special: Grasshopper Cheesecake Bars, as well as some more Strawberry Cheesecake Bars. I was more than happy to be the taste-tester: worth every calorie! Have we piqued your interest? You can place an order here! They also kept working on their danish dough and fillings (available here) and made the products for the Storefront for Success from start to finish! You can visit the Storefront Saturdays from 9:00-2:00!