This week marked the end of Week 7- only one more week of classroom to go! That means it is crunch time. David and Miles have two upcoming tests and a presentation to look forward to! Sounds like David is going to teach us about organic food, and Miles is going to introduce us to the world of Umami.
Here is a brief overview from Miles:
"Well this is our second to last week of classroom for JB 47!
All of our reading homework is done!
We made muffins, cupcakes, and cookies!
David and I are ow looking at job prospects.
We still have a ways to go. It has been very special for us to say the least.
Team just bakery is awesome.
Jan taught Dave and I about different stones and we made bracelets. That was probably my favorite part of the week.
We have to focus now on our Nutrition final and also our final presentation for the kitchen!"
As Miles mentioned, these guys have been busy in the kitchen and classroom this week! In the kitchen, they made cookies, pulled cheesy rolls to bake off, made cupcakes, packaged orders, and scooped some more muffins.
In the classroom, we wrapped up Nutrition by talking about marketing as well as laws around menu labeling. We reviewed some management material in ServSafe when it discusses the different ways to train employees.
David and Miles have also been working on their employment skills! We have had the honor of working with American Family for mock interviews-these have been extremely helpful to the students, especially getting to practice those very difficult STAR questions. Looking forward to being able to continue this partnership in the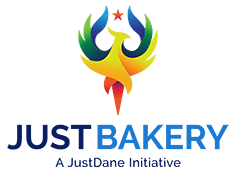 future!
We have an information session coming up! Tuesday, April 20 at 12:30 we will be hosting over Zoom. If you or someone you know might be interested in joining, please email Jaclyn at jaclyn@justdane.org for the link!
One of our amazing interns has undertaken the task of helping us research a potential membership program. If you would possibly be interested in joining a monthly box of JB goodies, please take this survey– Brandon is trying to put together as much as he can while his last semester with us winds down-the more responses we have, the better the information we have to put together this exciting opportunity!
Thank you for your continued support ❤