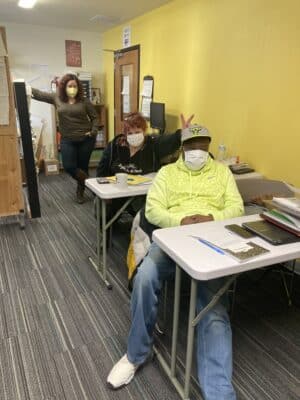 This was a busy week in JB-land -here is Cliff to tell you how it went!
In Just Bakery this week is was mentally tough and physically cold!  The weather made it difficult to attend class, but we all still made it.  This was a big test week seeing that we have two major tests in the same week.  Some of us did well on the test and others have to study where the scores are weak.  Then retest!  Oh well, guess I gotta study harder for my next test.
We have a good group and work well together in class.  Things seem to go well when we feed off of one another.  I actually learned a lot from Gloria this week.  She remembers lots of things and information during reviews.  When I hear her begin to answer a question, it makes me remember the answer.  Thanks Gloria!
We also got a chance to meet all of the interns and workers in the Just Bakery program.  They really are a great team and they go above and beyond to assist and help us with literally everything, even everyday life things.  Its comforting to know that you have a team / someone in your corner.  I'm learning so much in class as well as learning about new people (classmates.)  We're building great friendships while learning to build healthy relationships.
Its always nice when the class from the bakery brings in fresh made cookies for us to eat / sample while in class.  I'm beginning to feel like a cookie monster! Lol.
We are all looking forward to starting in the kitchen next week.  Cookies!
Thanks to all from from Just Bakery and everything you guys so for us and help us with!  We really appreciate you more then you know!
Here we come kitchen!
Cookies…
Cliff
We had our JB 51 class Graduation today, it was amazing getting to see how much Tiana and Lisa have grown from day one.  And things are only going to get better for them. Tiana is working with Hyvee in their bakery and Lisa is still on the hunt. Congratulations-we're so proud of you guys!!
We always end the week with Yoga on Fridays.