This is the first week since our most recent class JB-52 is solely in the kitchen and no more classroom hours.
Florenzo is having a feeling of accomplishment after just learning how to put the labels on the labeler machine and how to put back together the cookie machine.
Especially after having made five batches of cookies, I bet cleaning that out was no little task.  Big Props Flo!!
Gloria says I love just spending my time with my just bakery family in the kitchen!
And Cliff said the Kitchen is my highlight! I love everything about being in the kitchen and I am always the last one out and the first one in.
Working in the kitchen would never feel like work to me, its what I LOVE to do!!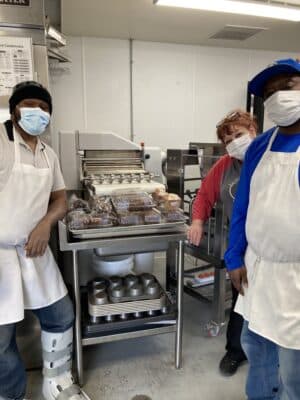 Our students also made our AMAZING batch of irish cream cheesecake, Which won't be around for much longer, come try some before they're all gone!