JB 49 has finally made it to the kitchen! Second month is awesome because it means the homework gets two days to do it (if your time management is up to par) and the students don't have the long hours of sitting in the classroom!
In the Kitchen:
The first day is always a lot. Much like the classroom, there is an orientation to the kitchen: where everything is, the science behind the items we bake, a review of ServSafe. Thursday they baked off some cookies, and got to package up a cookie platter order for one of our lovely customers! (Want to be one of those wonderful customers next week? Place your order here!)
In the Classroom:
The book work isn't done yet, though it is getting close! ServSafe only has two chapters to go before the review for the test begins. Nutrition is halfway done and now it's time to start thinking about the Nutrition presentation. Jan from Project Respect came in this week to do some mindfulness activities-she is such a wonderful grounding force!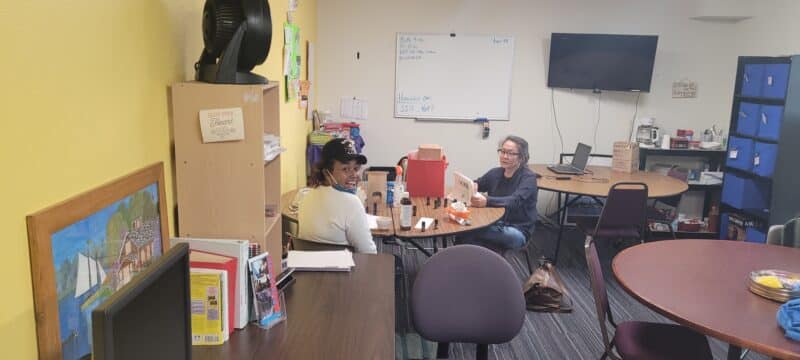 Thank you for your continued support of our program-remember, every dollar you spend comes back to the program to help us keep it free for our participants! The biggest support you can give us is buying our products- when you purchase different items, you give us the opportunity to teach the systems behind that item to our students. So order something weird to keep it fresh in the kitchen!
Did you know that JustDane is hosting a fun night in a couple weeks?? We have rented out the Mallards stadium for a fun-filled evening of tasty barbecue, an animated superhero movie, and, of course, some Just Bakery treats. Get your tickets for August 28th here– and as a thank you for following us, use the code JUSTDANE to get $5 off!