Our Just Bakery Class 52 just graduated today and it was a little bittersweet.  It is amazing and such a moment filled with happiness seeing how far all three of them have come to get to this moment, but now its a little bit sad because they are moving on to bigger and better things.  I will miss getting to be with THIS class, this amazing group of people who genuinely care for one another.  It was the perfect mix of energies that was able to create this environment where any one of us is able to thrive in, and THRIVE is exactly what Cliff did!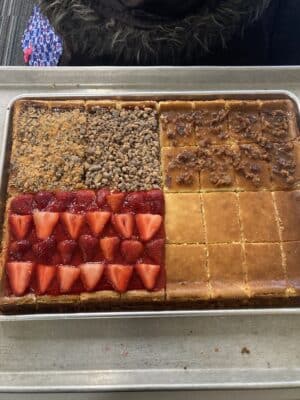 Cliff made a cheesecake that looks too good to be real!!  He made four different kinds, one was made with Heath chocolate, one was made with Butterfinger, another was made with strawberries, which was my favorite, and last but not least was the plain cheesecake, because he wanted you to see how good the cheesecake it just by itself.  Cliff is ready to go after anything he wants, he has a food truck and just made his own business cards.  I love seeing his drive and ambition pushing his energy into creating something positive for himself.  Its a beautiful thing.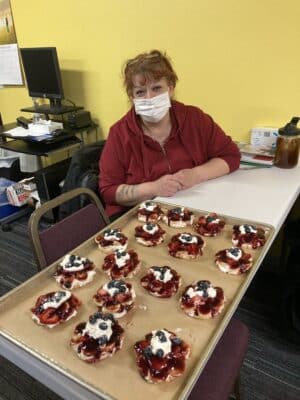 Gloria who is the Heart of this class made Fruit Pizza!  It was so good, she actually used Just Bakery sugar cookies and put fruit on top of them, which is so creative!  I loved being able to see Gloria push herself to finish the program, especially when I know how hard it can be especially when your traveling more than an hour just to come to class.  
Last but not least is Florenzo.  Whose stories and random facts that he knew would tend to take up class time, but they were always entertaining to listen to.  He is extremely smart and I know that when he wouldn't do as well as he wanted on a test he would really beat himself up, but that would make him push even harder when other people would have probably just gave up and quit the program.  Florenzo always had a smile on his face and his energy was always so good that there would be times where we need his light to light ours.  I know he is going to do great things!  For his final project he made a Challah bread which he added sun dried tomatoes and feta cheese to, and switched the pepper for cardamom.  This bread was amazing, let me tell yo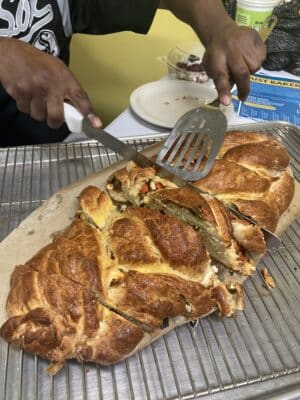 u!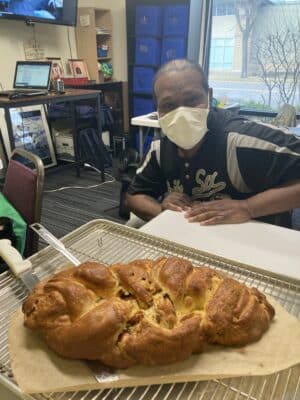 Now, were going to hear from our student Athena about what was going on this week for Just Bakery class 53.  
This week we are continuing our lessons in ServeSafe and prepping for the final next week!
We had a couple of visitors this week, Dana Miranda, with Dana Media, who spoke to us about freelance writing and how to make a career out of it.
We also got another visit from Jan, with Project Respect, who comes in weekly to do fun activities in order to help keep us present. This week we added fun craft items like glitter and beads to slime and played around with that!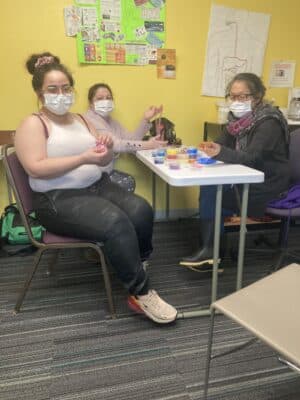 We wanted you to also hear from our interns, who without them this program would not be possible.  Our interns are amazing and are always going above and beyond.  
This is our intern Sam, talking about our class that just graduated. 
I started interning at Just Bakery on the same day that this group started class, so it has been very exciting to learn and grow along with them throughout the past 3 months! They were a great first group to work with because of how caring and genuine each one of them is, as well as how passionate they are about the class. Not only are they a very fun group of people to be around, but they are also extremely uplifting. It was amazing to see how much they encouraged each other throughout the class because it really showed how strong and driven they are! All of these qualities will surely help them succeed wherever life takes them next. It will be sad not getting to see them regularly, but I am thankful that I got to meet and work with each of them when I did! They helped to make my first couple of months here so enjoyable and helped me learn a lot about myself too.
And this is from our intern Madelyn, This JB52 class is amazing! It has been awesome to work with Gloria, Florenzo, and Cliff and watch their motivation, confidence, and work ethic grow. It is so cool to see that they really care about each other and have helped each other in the classroom and kitchen. I've learned so much from each of them and am excited to see what they do after graduation! 
And don't forget to try something from our bakery, like our Cheddar and Chive scones .