Since there was no blog post for last week, this one will be a double post! Marlene will fill you in on highlights from last week as well as this week.
I learn new things everyday in the just bakery kitchen with my baking partner Kim. We are learning at a fast pace how to bake. We made chocolate chip cookie dough, cranberry cookies, and got to learn about the dough machine. The main focus of the lesson and baking exercise was the creaming method, so we made sugar cookies. We also learned how to make brownies this week. In October, I will be in the kitchen Tuesday, Thursday, and Friday so I can experience more baking techniques
The interns are an essential part of the classroom. They provide the students with support, just like Anesis, and are focused upon positive self development. We talked about setting an intention, which is a reason to act in a certain way or showing feelings or attitude. My intention would be to work upon my time management skills and participate in constructive activities, which would leave me being fulfilled as a human being. With the course materials, my intention would be to study the course material so that I can feel more confident that I know and understand the subject matter. 
For Anesis we talked about what to do when circumstances do not go my way and if there are individuals with whom I can voice my concern about those unfortunate circumstances. Anesis taught me how to to be level headed. We also talked  about relationships and how people express love and how they appreciate and or show affection for each other. Alex and Nancy also brought up Maslow's hierarchy of needs, which deals with five main principles.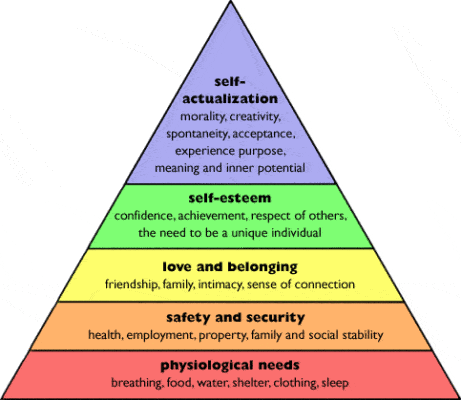 The first principle is the physiological need which is the need for proper food and shelter. The second need is the safety need, which relates to the need to feel safe at home and  outside of one's home. The third need is the social need which is being accepted by my peers and interacting with individuals with whom I feel comfortable with. The fourth need is the esteem need: how do I view myself and how do other people view me. This esteem need is my psychological profile of my self and my personal views about myself as well as how others see me as a person. The last need  discussed is the self actualization need which centers around being a perfectionist or striving to do one best. 
it has been a good  experience to interact with Anesis. 
It's almost time to start our last cohort of the year! We are having a second paid trauma-informed group. The information session will be Tuesday, Sept. 22 @12:00. Join us on Zoom to learn more about the program and to get an application!
Topic: Just Bakery Info Session
Time: Tuesday, 9/22 @ 12:00
Join Zoom Meeting
Meeting ID: 853 4344 7415